Welcome to PilotDrills.com
We offer hot tapping machine pilot drill bits, solid bits, drill bits, insert tips, drill shafts and much more all with coupon retention wire. These pilot drill bits are designed for all pipe types and sizes. Please feel free to call our toll free phone for more information on our products.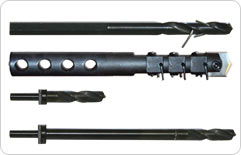 The image to the left contains a few examples of the pilot drills we keep in stock. Pilot drill bits can be used on 2lbin, AP Smith, and IPSCO hot tapping machines.
Advertisement